Water Cooled Scroll Chiller
Introduction
The Environmental friendly Water cooled Scroll Chiller are easy to install and can work perfectly in extreme tropical weather conditions. Therefore, These scroll chillers are designed, manufactured and tested as per approved international parameters.. Installed equipment are operation friendly and are backed by the competent engineering team to realize the advantage while being in operation.
 Features of Water Cooled Scroll Chiller:
Reliable and energy:-  efficient scroll compressors of European origin
Environment friendly:-  refrigerant R-407C / R-410A/ R-134A, available
Separate and individual:-  refrigeration circuits with each compressor
Totally skid mounted :- unit with single and multiple refrigeration circuits including fluid pump and storage tank
Electronic expansion:-  valves for larger capacities, for energy efficiency and precise temperature control
Factory made and tested:-  tube-in-tube as well as shell and tube evaporators, with high-flow high-pressure design, for specific process applications
High fouling factors:-  increased condensing area, extra tube thickness and high-flow design, for highest energy efficiency, higher operational reliability and easier maintenance
Fully automatic PLC:-  based units with remote operation and data logging facilities, available
Automatic, stepped:-  capacity control, through multiple compressor operation, from 33% to 100%
Types of Compressor Models
Its  consists of 2 types of compressor models ..
They are followed by,
 Single Compressor Model  and ,
Multiple Compressor Model
1. Single Compressor Model:
Single Compressor is designed following international standards. It is manufactured using renowned scroll compressors make available from da nfoss – maneurop and Copeland. The design of this is fully microprocessor based suitable for cooling applications ranging from (+) 20°C up to (-) 15°C and for lower temperatures of up to (-) 50°C.
Operating voltages
380/400 Volt AC/ 50 Hz
460 Volt AC/ 50 Hz
380 Volt AC/ 60 Hz
460 Volt AC/ 60 Hz
Design of Equipment
evaporating temperature: (+) 5°C
 condensing temperature: (+) 40°C
Connected power: 415 Volt AC +/- 10% / 50Hz / 3 Phase + neutral
Features
Ergonomic design
Low input KW/TR
Sturdy construction
Heat exchanger designed as per TElvlA/ASME/SEC VIII, DM, 2001
Latest technology
MCS microprocessor/PLC based/ electro mechanical
CFC free refrigerant
Liquid injection for maximum compressor life
Energy efficient
Easy-to-use
2. Multiple Compressor Model:
Proffering a gamut of  Multiple Compressor, our professional team has designed it innovatively. This liquid chiller is known for its comfort handling and process-cooling applications. It is available to our clients fully as a factory-assembled liquid chiller. Equipped with inimitable features like easy installation using wire and controllers, it offers maximum working efficiency.
Features
Modular design
CFC free refrigerants
Low input KW/TR required
Robust construction
Modern technologies
Efficient working
Designed as per TElvlA/ASME/SEC VIII, DM, 2001
Comprises MCS microprocessor
Equipped with PLC and electro mechanical
Includes liquid injections
Images
Water Cooled Scroll Chiller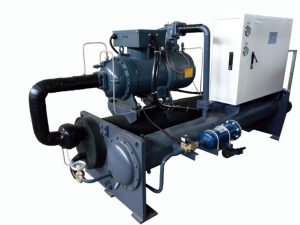 Single Compressor Model
Multiple Compressor Model