We are professionals in the manufacture of optimum quality of copper tube bundle by employing excellence guaranteed raw materials. Made from quality raw materials, these are passed through a thorough inspection to ensure the highest finish, dimensional accuracy, and toughness. These are extensively used in numerous industries as they are modified as per the specifications of our customers.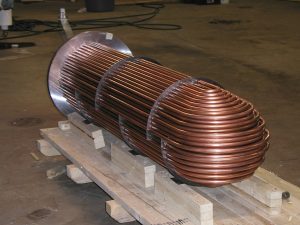 A Copper tube bundles heat exchanger consists of axially opposite tube plates, housing, and a plurality of tube bundles placed between the tube plates. Each independent tube is a part of the integral unit system. Each unit has at least one heat exchanger tube combined with two axial tube ends.
Every application comes with its requirements. Depending on specific needs, some heat transfer technologies perform better than others. By offering a complete range of heat transfer technologies, we can determine the optimal solutions for your particular applications and specifications.
Name Copper Tube Bundles Heat Exchanger.
Type: Shell and Tube with Baffles.
Material: Copper, Stainless Steel (SS304/SS316/SS316L).
Size: Customized.
Weight: Customized.
Working Pressure: 0.1MPa to 90MPa.
Other Related Tube Bundles We Offer
Stainless Steel Tube Bundles
We offer Stainless Steel Tube Bundles, which are extensively used for transportation of fluids intended for critical high temperature and general.
Naval Brass Tube Bundles
We offer our client with a wide range of tube bundles that is ideal for replacement tube bundles for heat exchanger equipment.
U Tube Bundle
During the manufacture of the same, as the Tube Bundle is to be manufactured considering the tolerance of the existing heat Exchangers & not Code Tolerance.
Boiler Tube Bundle
An assembly ties together a plurality of boiler tubes to increase their mechanical stability and maintain a uniform spacing between adjacent tubes.