Round Type Cooling Towers are also referred as Bottle Shape Cooling Towers in the industry because of the bottle like shape. The robust line of round shape cooling towers is manufactured in the range of 5 TR to 600 TR capacities.The series complies the concept of induced draft and counter flow functioning. The hot water is circulated in the cooling tower and spreader over the fills/packing by means of self rotating sprinkler.
Evaporative (FRP) Cooling towers are of vertical induced draft counter flow design with uniform water distribution and optimal heat transfer. Towers can be installed independent of wind direction. The tower casing is made from tough fiberglass and has sufficient strength to withstand high velocities and vibrations. The water collection sump is leak proof and avoids water spillage.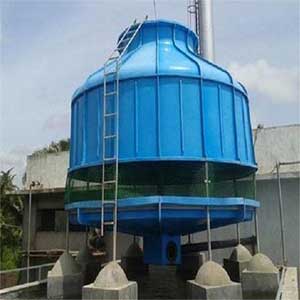 The traveling of air and water in opposite direction makes this principle a counter flow type. An evaporation loss of the water leads to the lowering down of water temperature.Concurrently the atmospheric air is drafted through an induced drought fan mounted on the top of the cooling tower.
These Round Shape Cooling Towers  are known for their artistic design, elegant shape, excellent features, Toughness and higher performance.
Delta's DFC-50 series constitutes the line of FRP Round Type Cooling Towers , which are highly acceptable in every kind of industry.
Chemical Petrochemical Industries
Dairy Product Process Industries
Plastic Manufacturing Industries
Paper Manufacturing Industries
Laminated Sheet Industries
Paints Manufacturing Industries
Steel Plants / Rolling Mills / Metal Casting /
Metal Forging Plants
Resort Hotel Hospitals Malls
Rubber Manufacturing Process Industries
Pharmaceutical Industries
Solvent Extraction Plant
Refrigeration Chilling Plant
Diesel Engine Gas Engine
Natural Gas Engine
Induction Heating Steel Furnace (Ferrous Non-Ferrous Metal)
Plastic Injection Blow Moulding Machine
Cold Storage
Milk Dairy Plants
Oxygen Plants
Design
Casing
Fill
Sprinkler
SCSP Nozzles
Drift Eliminator
Axial Fan
Motors
Corrosion Free
Light Weight
Installation, Service & Maintenance