Round Shape Cooling Towers:
Round shaped cooling towers are fabricated using the best grade quality components. Our towers work on the principle of counter flow, which results in flow of water while the air is pulled upwards by a fan. Thus, the air that is generated is fresher, cooler and less saturated. Round shaped cooling towers offered by us are light in weight and can be easily installed on roof without any special reinforcement. Round shaped towers are provided with a direct driven axial fan, which ensures that the system is free from problems faced with belt & gear drives. The main features of this tower include less air resistance to water, saving in operational costs, Resistant to water borne bacteria and organisms And light in weight and low power consumption.
Image: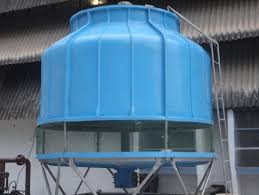 Process:
Round shaped cooling tower is the circulating water flow that is removed (usually discharged to a drain) in order to maintain the amount of Total Dissolved solids, other impurities at an acceptably low level. Higher TDS concentration in solution may result from greater round shaped cooling tower efficiency. However the higher the TDS concentration. The water that must be added to the circulating water system in order to compensate for water losses such as evaporation, drift loss, blow-out, blow-down.
The temperatures of the re circulating water, piping and heat exchange surfaces determine if and where minerals will precipitate from the re circulating water. Often a professional water treatment consultant will evaluate the makeup water and the operating conditions of the cooling tower and recommend an appropriate range for the cycles of concentration. The use of water treatment chemicals, pre-treatment such as water softening, The evaporated water leaves its dissolved salts behind in the bulk of the water which has not been evaporated, thus raising the salt concentration in the circulating cooling water.
Spares:
PVC Fill: A good quality fills and is of long life too.
Drift Eliminator: The carry over losses due to moisture drops.
Sprinkler: Due to the even water distribution over the honey comb fills.
Fan: flow type fan that is aero dynamically designed is of well balanced construction. we have availability of FRP fan and Aluminum fan
Features:
High efficiency
Rugged construction
Maintenance free.
Round Bottle Shaped Counter flow, Induced Draught design.
Top mounted Fan Motor.
Dynamic Water distribution System.
The casing and the design has an exclusive circular design. Therefore no impact of the direction of prevailing wind is encountered.
This FRP water cooling tower has a very efficient sprinkler head system that is relative and is made of aluminum alloy
Axial flow fans that are designed aerodynamically with adjustable pitch are used
The bottle shaped FRP cooling tower helps conserve power
Quiet operation is ensured
Applications:
Glass manufacturing plant
herbal, Aromatics & extraction plants
Industries heat process
Oil refineries
Plastic injection moulding machine
PVC pipes manufacturing plant
Soap / Cosmetic manufacturing industries
Steel factory and foundry