Designed to work in extreme tropical conditions, the Water Cooled Scroll Chiller is energy efficient and environmental friendly. This is used in specific industrial applications, where the fluid temperatures and other factors are of primary importance. It is designed and manufactured within the best available facilities and is tested as per the most stringent international parameters. The offered chiller is easy to install and operation friendly.
TIPO water cooled industrial chiller is widely applied in small-medium scale industrial cooling, helping to accurately control the temperature during processing, increase the product quality and improve the production efficiency. Water Cooled Scroll Chiller works with a cooling tower. It requires less installation room, and could be located in a relevant close space.
Water Cooled Scroll Chiller (Single Compressor) is designed following international standards. It is manufactured using renowned scroll compressors make available from danfoss-maneurop and Copeland. The design of this is fully microprocessor based suitable for cooling applications ranging from (+) 20°C up to (-) 15°C and for lower temperatures of up to (-) 50°C. It is engrossed with multiple scroll compressors along with individual refrigeration circuits. Thus, is rated for an ambient of up to (+) 480c and cooling tower water temperature up to (+) 37°c at the inlet of the condenser. The clients have an option of using CFC free refrigerant r-407c & r-134a along with in-built process pump and stainless steel chilled water expansion tank.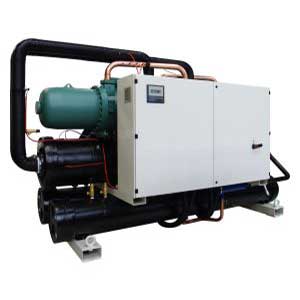 Design Features
Water temperature range 5ºC to 35ºC.
Danfoss/Copeland scroll compressor.
Copper coil built in SS tank evaporator, easy for cleaning and installation (plat type, shell and tube available on request).
Shell and tube condenser.
Microcomputer control system offering accurate temperature stability within ±1ºC.
Large flow volume centrifugal pump, higher pressure available on request.
Multi-protection devices to make sure the chiller and the equipment running safety.
Schneider electrical components.
Danfoss/Emerson thermal components.
Unit Safety Protection
Compressor inner protection
Over current protection
High/low pressure protection
Over temperature protection
Flow switch
Phase sequence/phase missing protection
Low coolant level protection
Anti freezing protection
Exhaust overheat protection
Features
Environment friendly refrigerant
Weather and dust proof designs
Reliable and energy efficient