Bottle Shape Cooling Towers are compact, heavy duty and efficient cooling tower with a long services life & aesthetic design. Owing to these features, these cater to various industries and HVAC applications. Due to the self-rotating sprinkler, the water is properly distributed over the PVC Fills. The shape facilitates in desired airflow. Being round in structure, the air flow of the tower is properly distributed. Thermo dynamically efficient, structural members never interrupt air intake. This directly causes reduction in running costs.
Process:
Bottle shape Cooling Towers is one of the leading manufacturers of compact and space saving FRP cooling towers. In FRP (Fibber Reinforced Plastic) cooling towers, multiple fibbers are joined mutually and are available in form of mat. The mat is joined with polyester resin, accelerator, and catalyst. Being round, the air flow through the towers is more evenly distributed. Structural members do not interrupt air intake and therefore they have been proven to be thermo dynamically the most efficient design in the field. This translated directly into reducing running costs. The towers offer PVC fills and eliminators in a design that maximizes economy and efficiency. The counter flow design facilitates low pump heads. The water is distributed inside the towers over the fill area through the self-rotating sprinkler to give an even distribution over the complete fill area.
Image: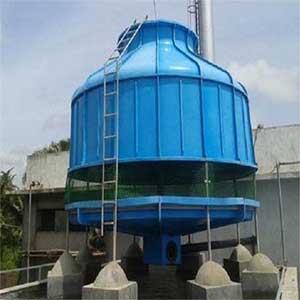 Materials:
FAN :
Aerodynamically designed axial flow fan sets are made of special cast aluminum alloy. Pitch of the fan blades are factory set and dynamically balanced.
CASING/BASIN:
These towers are made of tough fiber glass with reinforced plastic (FRP) and comprises adequate structural strength to withstand high vibrations and wind vibrations. Gel coat is used for UV ray's protection and longer life, The FRP water basins are leak proof.
FILL:
The poly vinyl chloride (PVC) fill is rigid and comprises the honey combed design with very large contact surface area. Its purpose is to split the water and air into different streams so as to increase the time of contact and also heat transfer between both the elements. These fills are available with us in standard size of 24"x 12" x 6" with the thickness of 0.25 mm.
MOTORS :
Especially designed for water cooling towers, these motors are enclosed having IP-55 protection. Flange mounted extended shaft motors are weatherproof.
DRIFT ELIMINATOR:
Made using rigid PVC material. The FRP flappers attached to the sprinkler reduces the drift loss of water.
SPRINKLER:
Our sprinklers are available in Brass/ SS/ aluminium/ PVC and the sprinkler pipe that spreads the hot water over the entire space of the fill area. These sprinkler pipes require low pressure to operate and assure uniform & non- clogging water flow.
Benefits:
Chemical Resistance
Part Consolidation
Durability
Incombustible
Low Maintenance
Minimum Drift Loss of Water
High strength
Advantages:
Elegantly profiled – Harrison FRP cooling towers are available in three pleasing shades to suit individual taste and environment.
Light Weight – Allows roof installation and saves on structural s and masonry.
Scientific Design – The bottle shaped body is designed for optimum performance eliminating dead pockets and for longer life in adverse climatic conditions.
Vertical Induced Draft Counter Flow – Uniform air distribution resulting in heat dissipation.
Direct Driven Axial Flow Fan – Aerodynamically designed to achieve high efficiency. Adjustable aluminum blades facilitate large air flow at low static pressure and lower noise level
. 6. Honeycomb PVC Fills – Extended contact area. Splits incoming air and water into several streams spread evenly across the cross section of the tower enhancing the rate of heat transfer.
Rotary sprinkler – Sprinkler head made of aluminum alloy fitted with sealed ball bearing to take care of thrust and radial loads.
blade rotary drift eliminator reduces carry over losses and spray entertainment.
Leak Proof FRP Basins – Deep sump basin with additional stiffeners. Avoids spillage and seepage of water. Area around the tower dry at all time.
Modular Construction – Easy assembly and dismantling direct access to internal parts and easy maintenance.
Corrosion Resistant – Inert to all chemical fumes. Reduced maintenance costs
Longer Lasting – more than Conventional towers.
Algae Free – Minimal cleaning. Saving in chemical treatment costs.
ageing. Curtails expenditure on replacement of Parts.
Low Mark Up Volume – lower drift losses hence lower make up water requirement. Scientifically Designed Piping – Inlet/outlet connections conveniently located to simplify plumbing and improved overall appearance.